Children think credit crunch is a new vegetable, they don't want to know!
If your children are still hoping for a party and you are concerned the credit crunch has deflated your brithday cake somewhat, don't worry, help is at hand!
Our new story telling parties (and naturally the brilliant steadfast originals) are designed to instil a sense of confidence, imagination and playfulness especially suited to those children who love a bit or drama. Plus we've added some credit crunching tips for the parents in this case to reduce the drama and keep you calm.
Credit Crunch Tips
Use our free party invites to save money and give your party the professional look. One for each theme.
Join forces with another Mum and have 2 birthday children as the lead (any combination of Knights/Princesses) and a lot more help at your party.
Book a face painter with any storyteller and get the face painter half price! (Share this with another Mum and you are making a saving!)
NEW Theme: Knight of the Kitchen Table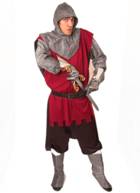 Our fabulous professional storyteller guides the children on a journey to fight imaginary dragons, rescue the party from the baddy ( and get all the party plates and cups back) and get on with being ever so silly in the land of make believe.
The children act out the story, play games and participate in a truly theatrical party. The birthday boy or girl becomes knight or princess and that means this party really is one for children to feel they were part of, not just at.
Suitable age: 4- 6 years.