Facepainting
Face painting and Film Make-up
Whether you prefer a tiger, a butterfly or a vampire, our artists can transform you into almost anything you can imagine! A fun and effective addition to a party, or an essential part of any corporate funday. Following codes of practice to provide clean, safe, fun faces with quality materials, our face painters are professional, experienced and trained to the highest standard. All products are dermatologically tested, water-based and safe.
Facepainting is suitable for all ages.
Horror Make-up (1.5 hours)
A popular choice among children who are made up with scars, cuts, and bruises while using false blood, skin, warts and blisters. There's nothing quite like frightening friends and family with a scary face!
Suitable for ages 7-11. Popular with boys.
Make-over Parties (1.5 hours)
We also offer Beauty make up parties – taken by professional make up artists, to give children a chance to be glamorous.
This is specifically for more "sophisticated" girls who are given glitter, bhindis, jewels, make up & lip gloss to apply themselves once they are shown what to do.
However, our face painters also offer glitter & gloss which will make little girls happy at any party!
Suitable for ages 7-11.
Face painting courses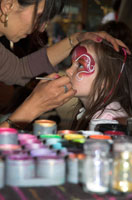 Any budding face painters who wish to improve their skills can attend the courses which are run by Karen Bowlas, a professional face painting artist. You will need a minimum of five people and a maximum of ten to organise your face painting course. The course will provide training and information on the professional use and application of face paints and guidelines for some face designs to learn.
There will be three sessions, each lasting three hours (nine hours tuition in total)
The cost per person for the nine hour course is £100.
A space can be provided to take the course near our offices in EC1, however the course tutor would be able to travel to your group if you prefer, as long as you are in Central London.
At the end of the course you will have learnt the basics plus loads of tips and will be ready to start practising yourselves.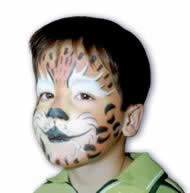 Really useful for mums who would like to facepaint at home, or maybe at school or charity events to raise money, or even for someone starting out and looking for a springboard for professional training and work.
Please contact us for further details or to arrange your course – 0870 770 2705.